For firmware ECU and car diagnostics I use USB K-Line adapter, with which I connect a laptop.
I soldered it a year ago, as a course work on circuitry) The machine was not there yet, so I'm sharing now.
For someone who gets along well with a soldering iron, I think manufacturing will not be a big deal.
Actually, the circuit was first selected and the card was drawn for its needs in the SprintLayout 5.0 program.
Scheme found on the Internet and a little simplified it. The choice of the circuit depends on the availability of the required radio parts.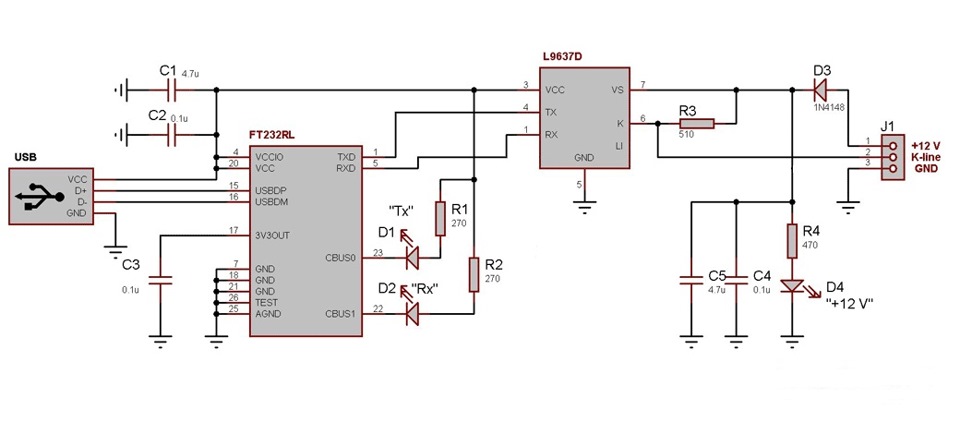 Changed scheme.
Then I drew the layout of the board for further printing. For the installation, the predominantly smd elements were chosen, in the first with them it is possible to make a more compact scheme, in the second, I just wanted to learn how to solder them, since I had no such experience before)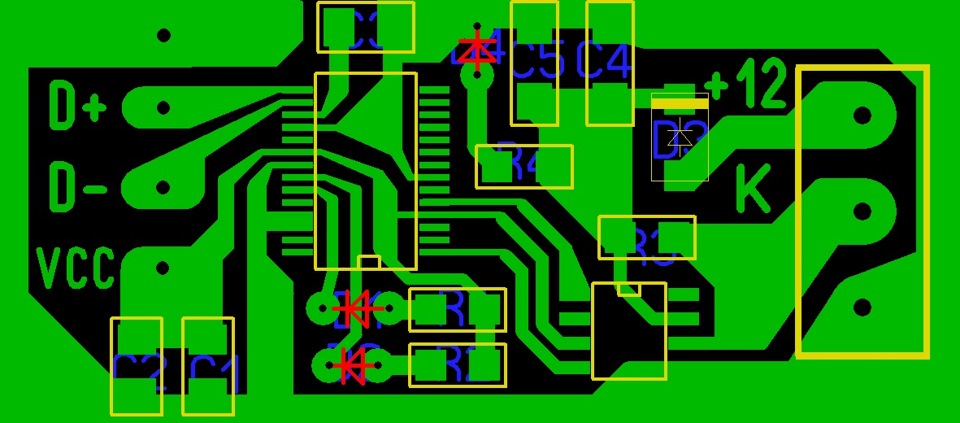 The layout of the board in SprintLayout 5.0.
Then I cut the blank of the board from the fused glass-cloth laminate. The board size was 50x22 mm.
The board was manufactured using the LUT technology.
For etching contact tracks, a 3% solution of hydrogen peroxide was used with the addition of citric acid and salt. I advise this solution to everyone, since it is the cheapest, safe and fastest eats copper, for a fee of my size it took only 10 minutes.
Etched tracks.
Then the board was irradiated with an alloy of Rose — this is a solder that melts at the boiling point of water. So I also boiled the board in a cup by adding citric acid to the water, which is used as a flux, and evenly covering the charge with solder. TABLEWARE AFTER THIS OPERATION FOR PREPARING FOOD IS NON-FULL ! THE SOLDER CONTAINS THE PIG. Therefore, use deliberately unnecessary dishes.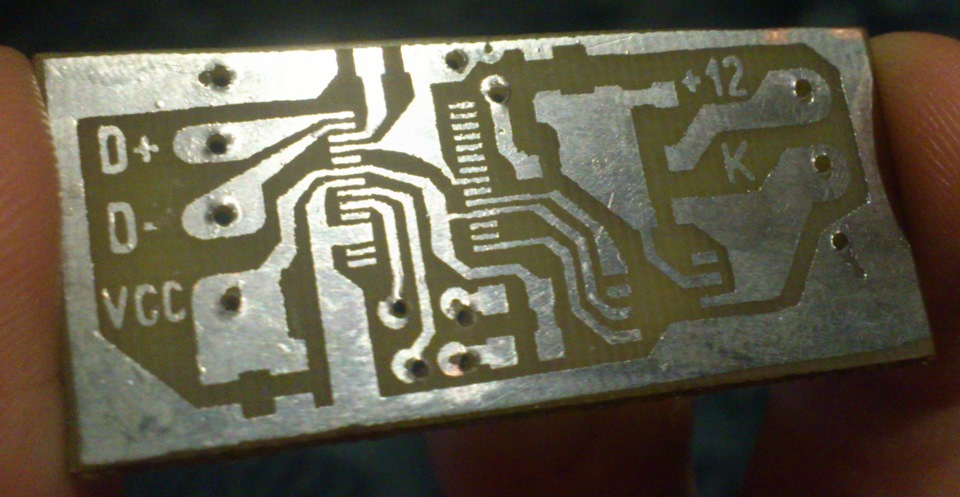 Tin-plated board.
During the installation, you first need to solder the largest in size and complexity elements.
Before soldering the chip, I reread a lot of information and reviewed the video, and decided for myself that the risk is great, but it all worked out and earned from the first time)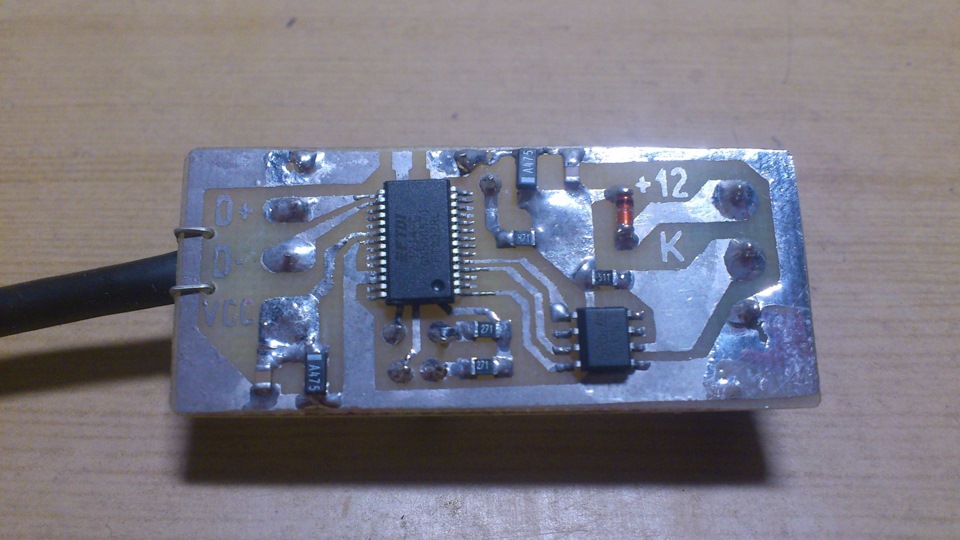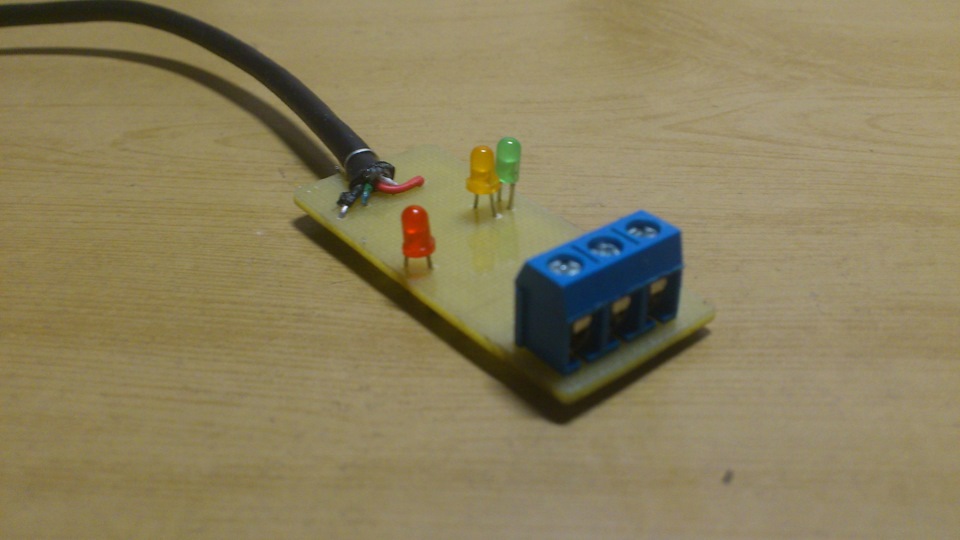 That's what happened.
Then I ordered Ebay connector OBDII to connect to the car and the adapter to the GM connector , which is used on systems January 5.1.
Adapter with connector.
In principle, you can use the usual radio parts and make a larger board, I painted this one too, and two odnogrupnikah soldered it, but it is 3 times more)
Who needs this board file for the SprintLayout 5.0 program.
yadi.sk/d/Y8lbt_WoftF2C
Good luck in your endeavors!
Powered by Google Translate
Рекомендуем посмотреть ещё:
Адаптер K-LINE своими руками из USB дата-кабеля от телефона -
Отбойные молотки своими руками